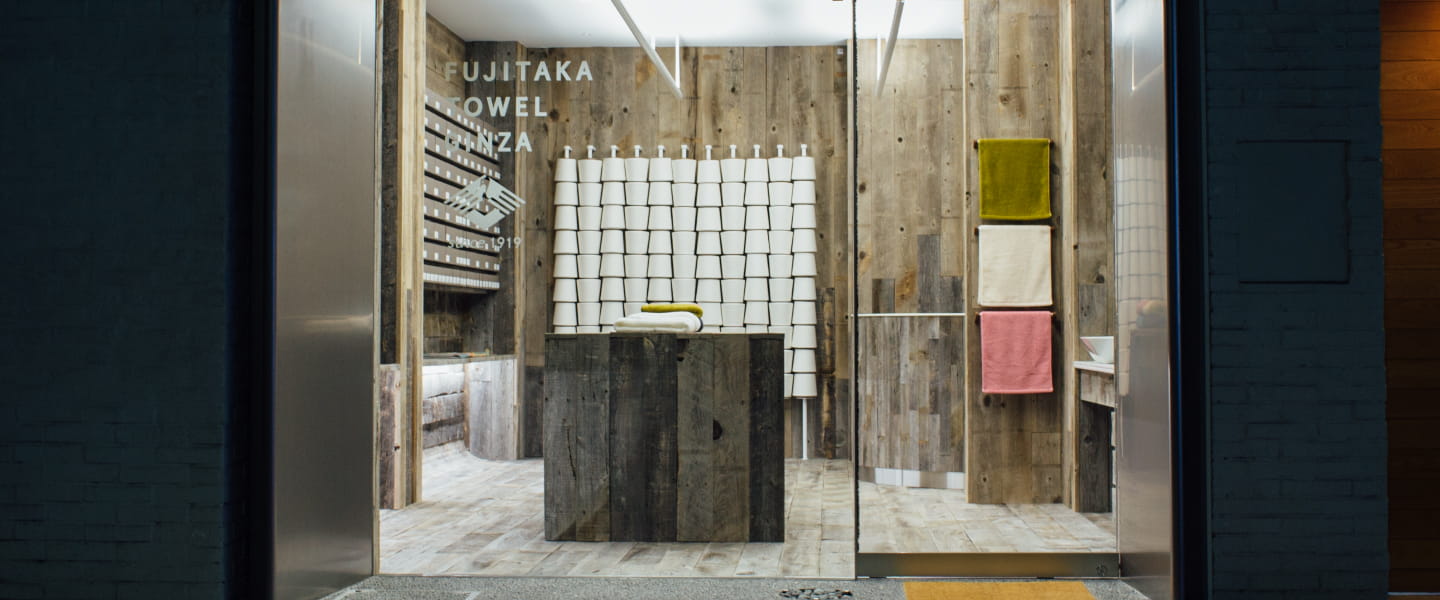 FUJITAKA TOWEL GINZA
Address: Fujitaka Building 1F, 7-12-1 Ginza, Chuo-ku, Tokyo
TEL: 03-6278-8852
Opening Hours: 11:00 - 19:00
Closed: New Year holidays
Access:
3 minute walk from Exit A3 of "Ginza Station" serving the Tokyo Metro Ginza Line, Marunouchi Line and Hibiya Line.
*Please note that Exit A3 will be undergoing works from April 7, 2018, so customers are asked to use Exit A2 instead.
3 minute walk from Exit A1 of "Higashi-Ginza Station" serving the Tokyo Metro Hibiya Line and the Toei Subway Asakusa Line.
MAP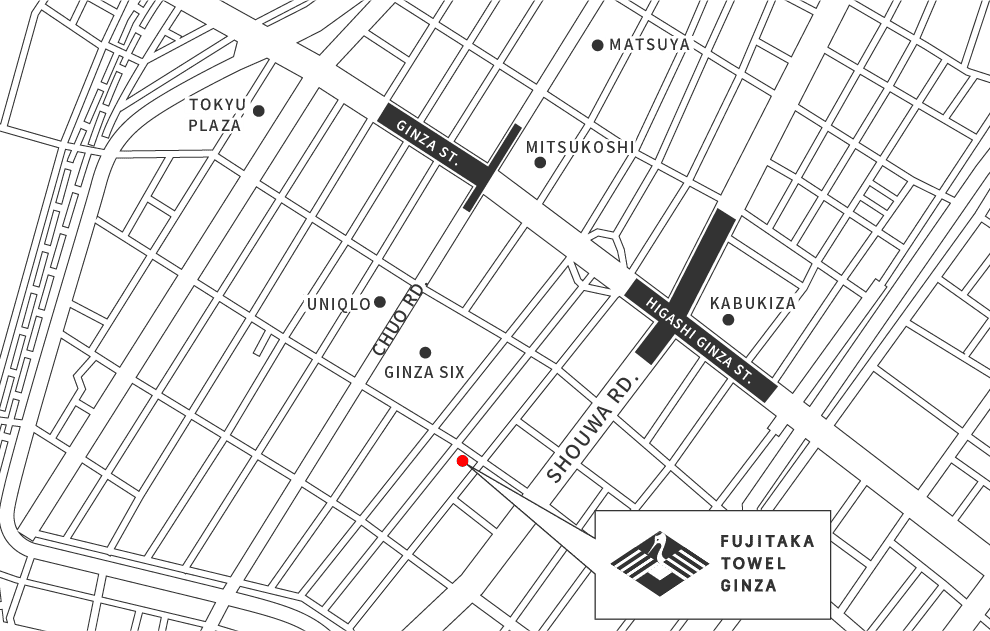 A shop that provides high quality towels in Ginza.
Imabari's famous towel manufacturer, FUJITAKA TOWEL, has opened a store selling directly to the public that is just a 1 minute walk from the back of the "Ginza Six" shopping complex.
It stocks a variety of towels perfect for that little extra-special gift or for use in your own home.
Please be sure to drop by to experience the feel of a really good quality towel.
The shop is designed to represent our
100 years of history.
When you enter the store, the first thing you see is a calming, grey wall made of old, recycled materials ordered from North America.
FUJITAKA's accumulation of 100 years is represented in this wall.
In the store you can look at our various towels, while viewing pictures of
Imabari's bountiful nature.
Please feel free to take your time and have a good look around.
Yoshifumi Nakamura's comments on the design of the store

In designing the Ginza Shop for "FUJITAKA CO.,LTD." - a company that boasts 100 years of history since it was founded - I wanted to express both the "length of time" of those 100 years and the "texture of the towels" as well.
At that very moment, with perfect timing, some old boards became available. They had been used as fences for wind breaks in the high plains of North America and their exposure to wind and snow had turned them a silver-grey color.
Their texture was like that of a faded, washed towel with the smell and beauty of the sun residing in them.
I designed the new store carefully, using plenty of this old material.
YOSHIFUMI NAKAMURA

Architect. Yoshifumi Nakamura was born in 1948 in Chiba Prefecture. In 1972, he graduated from the Faculty of Architecture at Musashino Art University. After working in a design office, Nakamura studied furniture making at in the Woodworking Department of the Tokyo Metropolitan Vocational Skills Development Center. He established Lemming House in 1981. He won the First Yoshioka Award for "Mitani's House" in 1987. In 1993, Nakamura was awarded the 18th Isoya Yoshida Special Award for "A Series of Residential Works." He is currently a visiting professor at the Department of Environmental Design, Faculty of Fine Arts, Tama Art University.
His written works include "A Housing Pilgrimage", "House Reader" and "Construction from Intention" (published by Shinchosha); "Residential Art for the Everyday" (published by Okokusha); "A Housing Pilgrimage - Round Two" (published by Chikuma Shobo); "Yoshifumi Nakamura's Normal Houses & Normal Villas", "Yoshifumi Nakamura's Small Pad to a House", "Yoshifumi Nakamura's Collective Architecture - Circular Spaces" (published by TOTO Publications); and "Traveling Around Lifestyles" (published by KK Bestsellers) etc.
The spirit of FUJITAKA encapsulated
in the symbol of the crane.
The logo of the crane was redesigned for the Sekai Tsuru (World Crane) brand launched by FUJITAKA TOWEL during the Taisho Era (1912–26).
It expressed FUJITAKA's manufacturing spirit with a logo that reflected the growth of Imabari towels and a world-class "Made in Japan" standard.
It has also become an image of Japanese manufacturing
- a packing design that is simple yet assertive.
Packaging and gifts put together like a 3-D puzzle
At FUJITAKA TOWEL GINZA, we prepare original packaging to make your shopping
and gifts more enjoyable.
Our packaging is just like building a 3-D puzzle with building blocks.
This is a new packaging structure that quickly solves any issues with towel combinations
and helps you to choose gifts.
Why not choose a gift for yourself and enjoy not only selecting the towel,
but also the fun of the packaging.
Masahiro Kakinokihara's comments on the logo and design

The "crane" adopted as the symbol for FUJITAKA TOWEL GINZA is a reconstruction of the trademark for "Sekai Tsuru" adopted by FUJITAKA in 1926. In addition to symbolizing the technological skills inherited by FUJITAKA, I wanted to express the feeling of combining that technology to create value, which is why I stylized the logo to design a new pattern.
MASAHIRO KAKINOKIHARA

Art Director. Kakinokihara was born in Hiroshima Prefecture in 1970. He established 10 Co., Ltd. In 2007 after going through Draft Co.,Ltd. He is a member of Tokyo ADC.
His main work includes branding for Singing AEON, R.O.U, the Tokyo International Film Festival, the Shizuoka City Art Museum and CI of the Shinmai Media Garden.
In 2003 he won the Japan Graphic Designers Association Award for newcomers. Kakinokihara has won a number of awards including the New York ADC Award, the ONESHOW PENCIL Award, the Tokyo ADC Award and the Good Design Award.