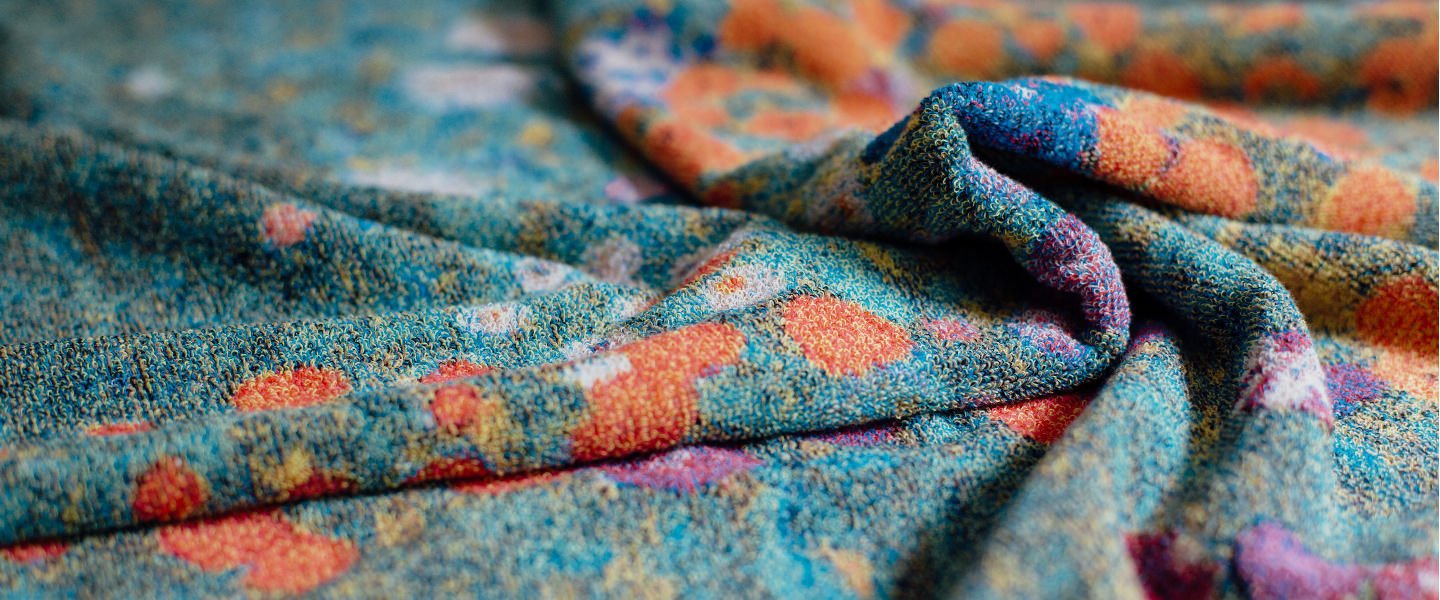 Although it is a towel, it looks just like a photo
- a shining example of FUJITAKA's technology.
Beauty born from a challenge.
You may be surprised to find that it looks like a "printed photo" from a distance.
But when you look closely, it is actually a towel.
The Five-colored Weave is a towel made using FUJITAKA's own proprietary weaving methods to reproduce full color photos and paintings that would previously only have been possible using ink jet printing.
With previous technology, photos were generally reproduced by printing them quickly with a printer on short-pile towels.
We wondered if there was a way to ensure a more beautiful reproduction.
Our challenge was to find out if we could apply ink jet printer techniques to a loom. And we succeeded in developing a new technique, using pre-dyed yarn to weave reproductions of colorful photos and paintings.
Using pile in place of dots.
Originally ink jet printers print small dots of ink in 4 colors (red, blue, yellow and black) onto paper and combine the colors to reproduce photographs.
At FUJITAKA we thought we would try to do the same with the way we weave yarn.
Combining white yarn instead of the white paper with the same 4 colors used in paper printing, we decided to weave a towel with five colors of yarn and reproduced a subtle picture like a photograph by replacing the dots with fine-colored, single strands of pile.
The principle was simple. However, the task itself was not as simple to complete as merely analyzing the image with a computer and weaving the 5 colors.
It was the fruit of various ideas,
technology and concepts.
Reproducing a photograph on a towel will not be successful if the cut-end of the pile is course and it is not finely lined-up.
Following a series of trials and errors, FUJITAKA ended up using several technologies. We managed to make a towel that really looked like a photograph by using a pre-dyed Jacquard weave and weaving a towel with densely packed cut-ends and a 3D look.
Also the dye for the thread was not the same as the ink for paper.
We decided to develop our own original colors to reproduce natural-looking hues that would compete with those printed on paper.
Recently we have developed new technology that allows us to weave in 6 colors rather than just the 5, with the use of a sixth brown-colored yarn. This brings the color even closer to that of the original image.
Reproducing the "Bauerngarten"
by Gustav Klimt.
FUJITAKA acquired a patent for proprietary technology for the five-colored weave and was awarded the Minister of Economy, Trade and Industry's Award in the Product & Technology Development Category of the Monodzukuri Nippon Grand Awards presented by the Prime Minister to people who have made significant achievements in the development of industry and culture.
And here, 100 years after the artist's death, we have woven a towel of the oil painting "Bauerngarten" by Klimt to celebrate FUJITAKA's 100th anniversary.
The pile delicately depicts this beautiful work, with its colorful flowers.
Please visit our Ginza shop to view this reproduction.
Naturally using it as towel also offers outstanding comfort.
Product information
Tips for using our towels
Tips for using our towels
Our towels are made of delicate fabric.
Here are some tips for using them comfortably,
over a long period.
First Use

New towels are nicer to use if you wash them once.
At first the towels may shed some fine fluff, but this will stop after several washes.
※ This does not include towels with zero-twist yarn (non-intertwined threads)
New towels may fade in color if they are stored in that state for a long number of years, so please wash them as soon as you get them.
Washing Instructions

Wash towels so that they are immersed in plenty of water.
Washing machines with a drum only spray a small amount of water onto the laundry to remove the dirt, which risks the pile hardening. If you are using a drum-type machine then it's better to use the dryer feature to finish off the towels and plumpen the pile. Select a wash setting that pumps through as much water as possible.
Please note that there is a risk of the pile being caught if you wash towels with things that have zips or velcro.
Choosing a washing detergent

Please avoid using detergents with whitening fluorescents or chlorine bleach, as there is a risk of discoloration.
Please refrain from using fabric softener as this may damage the absorbency of the towel. We only recommend using it for towels that have hardened with age.
Drying

Leaving the water to evaporate from towels over a long period of time causes the pile to collapse and harden.
Please dry towels quickly, as the pile will collapse and harden if the towels are left as is after the water has evaporated.
Dry in a well-ventilated shaded area as strong sunlight causes fading and makes the towels hard.
Please note that leaving towels wet can cause odors, fungi and bacteria to form.
To sustain the volume

When drying your towel after it has been washed, please take both ends, shake it with a snap, pull it into shape and leave to dry to ensure that you always have a soft, plump towel to use. Shaking it in the air makes the fibers stand up and ensures a fluffy finish.
Storage

Try not to crush towels as far as possible and store them in a plumped-up state.
Store in a well-ventilated place, as towels will absorb moisture.
If the pile ends up snagged

Our towels are made of delicate fabric, so the pile may end up getting snagged on a nail etc.
If any of the pile is sticking out, trim it at the base with a pair of scissors. In this event, please be careful not to damage the base of the fabric.
If the hem or the selvedge ends up frayed, you can stop any further fraying by going over it with a sewing machine.