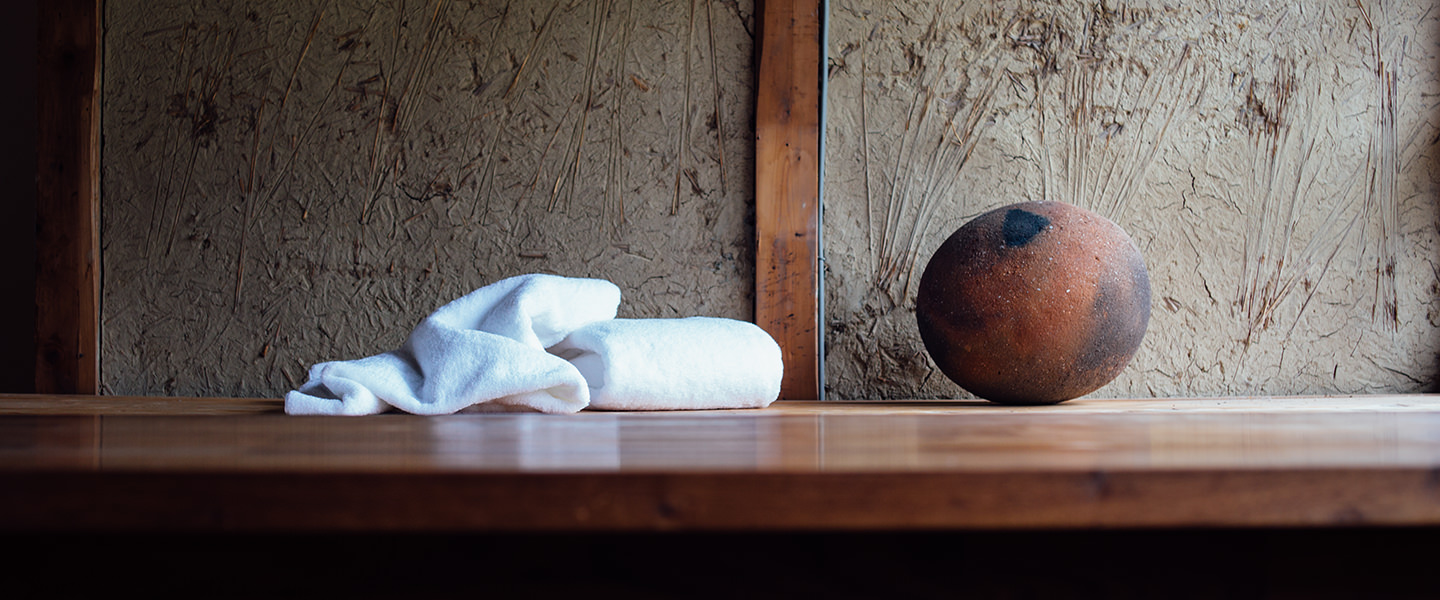 Great as a gift. A white towel
- extraordinary in all respects.
The ultimate in towels.
What extremes must we go to, to make towels of this type and quality?
"Make a supreme towel - extraordinary in all respects"
That was the mission given to the supervisor in charge of developing the "Sekai Tsuru - Moon" towel.
Any materials could be used - no matter how hard to obtain.
Any number of craftsmen could be used - no matter how much time and effort.
To go "beyond commonsense" was okay. Do not make a mediocre towel.
This was the start of the development of a towel that was extraordinary in all respects.
Making the very best use
of unique cotton.
With raw materials to choose from cottons all over the world,
it was Suvin Gold that we selected - a super-luxurious Indian cotton.
Among Indian cottons with a silky feel and luster,
Suvin Gold is one with long fibers and less of a tendency to shed fluff.
It is a rare cotton, with crop yields accounting for barely 0.01% of the world's cotton growth.
However, the objective of manufacturing is not just about getting good raw materials.
At FUJITAKA, we have come up with additional plans to process the thread in special ways; such as a process to further reduce the small amount of fluff shed by Suvin Gold.
A delicate texture
from delicate threads.
The "Sekai Tsuru - Moon" uses ultra-long cotton as a raw material, resulting in a towel with a weave so fine and delicate as to be unimaginable for normal towels.
With a thread-count of 140 the yarn is fine and easy to cut. As shown in the photo, 3 strands of this yarn are twisted together and then 2 strands are further arranged in parallel to be carefully woven.
Even the weaving and finishing stages require slower and more careful work than for normal thread, and these towels take considerably more time and effort to produce than normal ones.
However, this shows in the towel's soft touch, which is so delicate.
The generous use of fine threads, woven at a high density, gives an excellent sense of volume.
Soft to the touch
and extremely absorbent.
We even think about the processing temperature used when making "Sekai Tsuru - Moon" towels, so that we create a finish where the super-high-class cotton yarn is kept in its best original state, without causing damage to the threads.
For example, normal towels are generally finished by rinsing them for a short time in boiling water at 100℃ at the end; however, "Sekai Tsuru - Moon" towels are finished by slowly soaking and rinsing them at a low temperature for 1 or 2 days.
The step-by-step process of detailed work is not suited to mass production, but minimizing the damage to the threads produces a towel with a softness, suppleness and absorption not found in any other towel.
You don't need to use fabric softener.
The more you use it, the more you realize that impressive feeling of comfort that you rarely come across - making this perfect for a special gift.
Product information
Tips for using our towels
Tips for using our towels
Our towels are made of delicate fabric.
Here are some tips for using them comfortably,
over a long period.
First Use

New towels are nicer to use if you wash them once.
At first the towels may shed some fine fluff, but this will stop after several washes.
※ This does not include towels with zero-twist yarn (non-intertwined threads)
New towels may fade in color if they are stored in that state for a long number of years, so please wash them as soon as you get them.
Washing Instructions

Wash towels so that they are immersed in plenty of water.
Washing machines with a drum only spray a small amount of water onto the laundry to remove the dirt, which risks the pile hardening. If you are using a drum-type machine then it's better to use the dryer feature to finish off the towels and plumpen the pile. Select a wash setting that pumps through as much water as possible.
Please note that there is a risk of the pile being caught if you wash towels with things that have zips or velcro.
Choosing a washing detergent

Please avoid using detergents with whitening fluorescents or chlorine bleach, as there is a risk of discoloration.
Please refrain from using fabric softener as this may damage the absorbency of the towel. We only recommend using it for towels that have hardened with age.
Drying

Leaving the water to evaporate from towels over a long period of time causes the pile to collapse and harden.
Please dry towels quickly, as the pile will collapse and harden if the towels are left as is after the water has evaporated.
Dry in a well-ventilated shaded area as strong sunlight causes fading and makes the towels hard.
Please note that leaving towels wet can cause odors, fungi and bacteria to form.
To sustain the volume

When drying your towel after it has been washed, please take both ends, shake it with a snap, pull it into shape and leave to dry to ensure that you always have a soft, plump towel to use. Shaking it in the air makes the fibers stand up and ensures a fluffy finish.
Storage

Try not to crush towels as far as possible and store them in a plumped-up state.
Store in a well-ventilated place, as towels will absorb moisture.
If the pile ends up snagged

Our towels are made of delicate fabric, so the pile may end up getting snagged on a nail etc.
If any of the pile is sticking out, trim it at the base with a pair of scissors. In this event, please be careful not to damage the base of the fabric.
If the hem or the selvedge ends up frayed, you can stop any further fraying by going over it with a sewing machine.