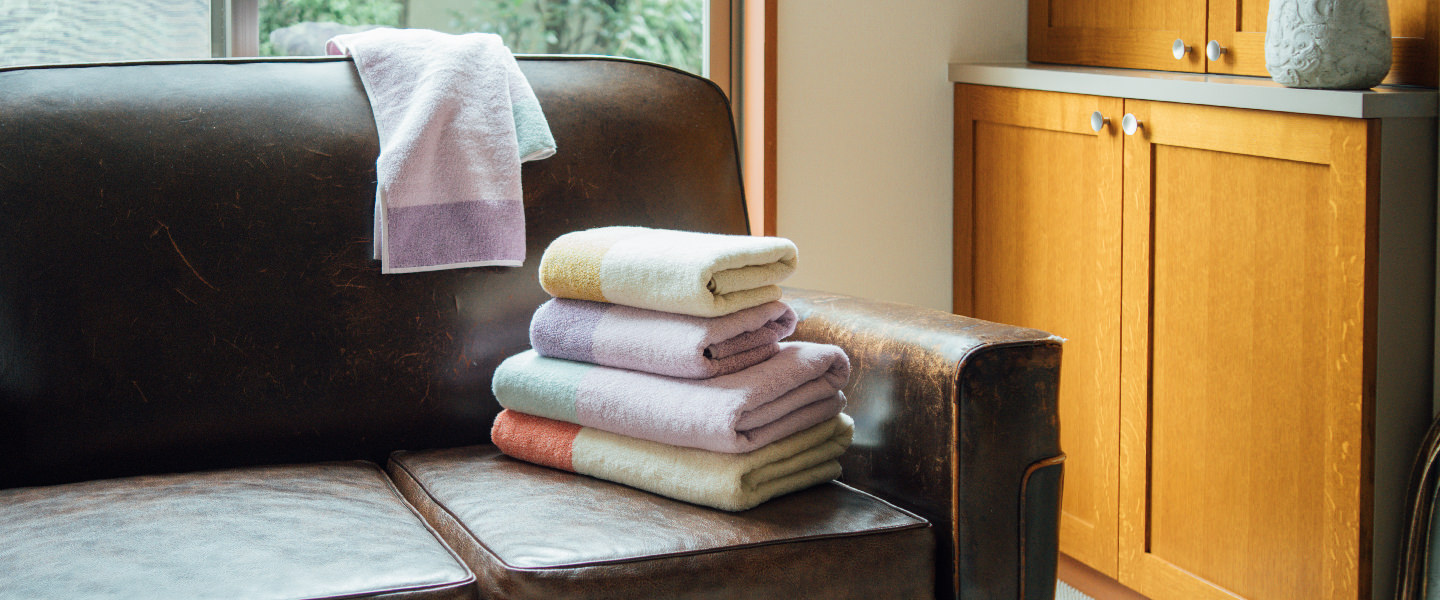 Softer colors achieved through grandrelle yarn.
We have created
more nuanced colors
through advanced thread design.
The GRAPHIC LINE series represents the pursuit of beauty through the fullest use of Fujitaka's technological capabilities.
The secret of #02's gentle and beautiful coloring is "grandrelle yarn".
A grandrelle yarn is a mottled twist thread that combines two or more colors together.
The towel fabric woven with grandrelle yarn has a soft, mottled color.
Each item in #02 looks like a simple pink, green, or purple at first glance, but if you look carefully at the three colors, you will see that they include the same light pink as the color of the edge.
Therefore, the colors of the edges and piles blend naturally, the overall color is complex, tasteful, and exquisitely harmonious.
Good colors for living
The photograph shows color schemes created by designers based on the hundreds of thread samples Fujitaka possesses.
The color schemes of the #02 series were selected by the Fujitaka staff based on customer feedback from a number of possible patterns.
We selected colors that are easy to use and harmonious with modern life styles.
In order to make the best use of such carefully selected color combinations, we also carefully designed the details of the towels.
Fujitaka's unique patented technology for erasing the upper thread is used on the left and right edges, and the same light pink lines on the upper and lower hems are also placed on the edges to pursue unity.
By doing so the main colors are brought into full focus.
And because the material is a solid Greek cotton, it has a comfortable heavy texture that you will want to keep next to your skin.
Product information
Tips for using our towels
Tips for using our towels
Our towels are made of delicate fabric.
Here are some tips for using them comfortably,
over a long period.
First Use

New towels are nicer to use if you wash them once.
At first the towels may shed some fine fluff, but this will stop after several washes.
※ This does not include towels with zero-twist yarn (non-intertwined threads)
New towels may fade in color if they are stored in that state for a long number of years, so please wash them as soon as you get them.
Washing Instructions

Wash towels so that they are immersed in plenty of water.
Washing machines with a drum only spray a small amount of water onto the laundry to remove the dirt, which risks the pile hardening. If you are using a drum-type machine then it's better to use the dryer feature to finish off the towels and plumpen the pile. Select a wash setting that pumps through as much water as possible.
Please note that there is a risk of the pile being caught if you wash towels with things that have zips or velcro.
Choosing a washing detergent

Please avoid using detergents with whitening fluorescents or chlorine bleach, as there is a risk of discoloration.
Please refrain from using fabric softener as this may damage the absorbency of the towel. We only recommend using it for towels that have hardened with age.
Drying

Leaving the water to evaporate from towels over a long period of time causes the pile to collapse and harden.
Please dry towels quickly, as the pile will collapse and harden if the towels are left as is after the water has evaporated.
Dry in a well-ventilated shaded area as strong sunlight causes fading and makes the towels hard.
Please note that leaving towels wet can cause odors, fungi and bacteria to form.
To sustain the volume

When drying your towel after it has been washed, please take both ends, shake it with a snap, pull it into shape and leave to dry to ensure that you always have a soft, plump towel to use. Shaking it in the air makes the fibers stand up and ensures a fluffy finish.
Storage

Try not to crush towels as far as possible and store them in a plumped-up state.
Store in a well-ventilated place, as towels will absorb moisture.
If the pile ends up snagged

Our towels are made of delicate fabric, so the pile may end up getting snagged on a nail etc.
If any of the pile is sticking out, trim it at the base with a pair of scissors. In this event, please be careful not to damage the base of the fabric.
If the hem or the selvedge ends up frayed, you can stop any further fraying by going over it with a sewing machine.