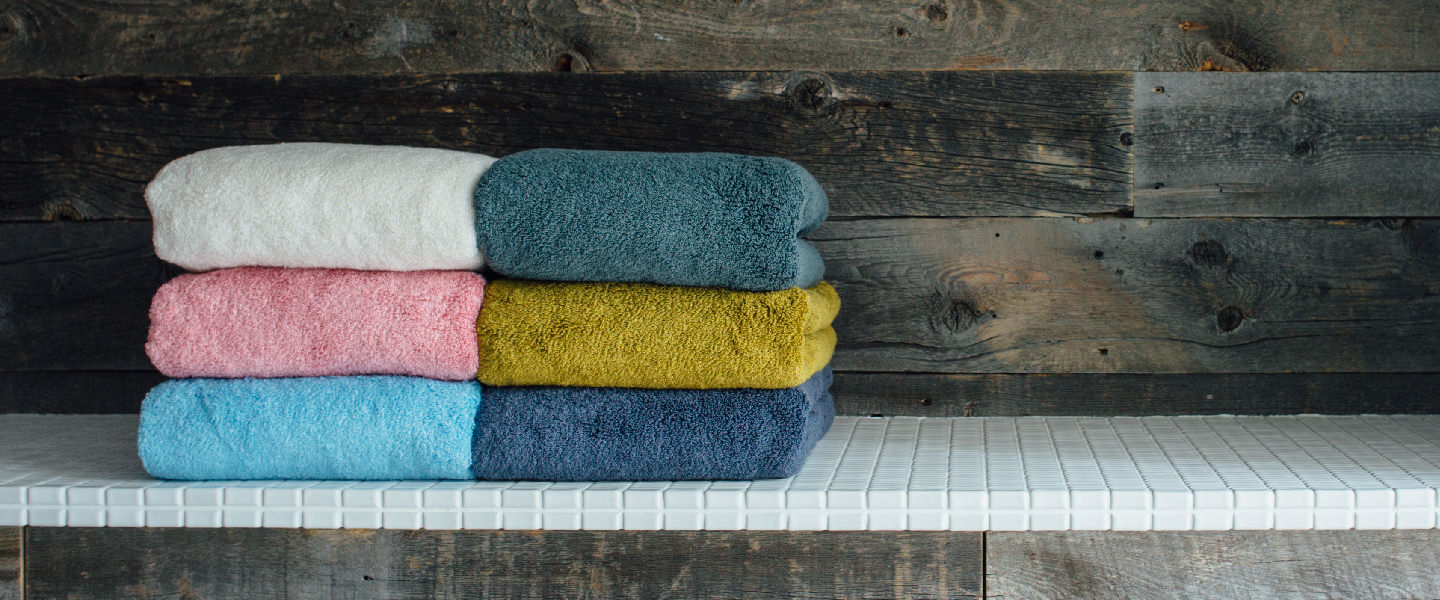 Creating a soft towel
that will last a long time.
Developing a towel
that is durable and soft.
It was stories of towels that FUJITAKA employees had been using at home for many years that acted as a trigger for these towels.
"My father also worked at FUJITAKA and there are still some old FUJITAKA towels in the house. We are still using towels that were first used when I was a child. The thread has not thinned and the texture is still firm."
These were not the fluffy, light, soft towels that are popular nowadays, but rather old-fashioned hard towels - yet they were robust and lasted a long time.
Our employees thought "What if we could make a towel that could combine this durability with the characteristic softness people require today" - and this led to the development of the ZUTTO towel.
The double thread is the secret to
the towel's long life.
The secret of old-fashioned, long-lasting towels was the way in which the threads were twisted.
Normally the yarn used in fabric is single thread - with just one strand used as is; and double thread - with two strands twisted together.
The long-lasting towels that FUJITAKA employees had been using at home were double threaded.
The yarn in double-threaded towels is thick, strong and durable but characteristically the texture is commensurately hard.
On the other hand, the soft, loosely-twisted towels and zero-twist towels that are commonplace today are single thread towels.
However, the disadvantage of single threads, compared to double threads, is that they tend to shed fluff more easily and the texture becomes thin.
We wondered if we could somehow make towels with the durable structure of double threads, but with the softness of single threads.
Soft to the touch, but double threaded. We decided to launch an offensive to find a thread with new properties.
Packed with
yarn-making technology.
Double threaded yet soft. The successful development of this towel was due to the accumulated knowledge of FUJITAKA's 100 years of expertise in yarns.
Through the process of trial and error, and using the super-long, supple American cotton "Pima", we came up with a new method of twisting a single strand of the thread itself and then twisting two of those strands loosely and gently to make a double threaded yarn.
Thanks to the latest spinning technology, we succeeded in using a yarn which was double threaded but with as little twist as possible.
The end product was a double thread with as gentle a twist as possible - as if it was hardly twisted at all.
Consequently, the towel is fluffy and won't harden even though it is made of double threaded yarn.
A special process is used which decreses the amount of fluff appearing and also gives a shiny look.
ZUTTO aims to become part of
your lifestyle.
There is an increase in the number of people looking for a lifestyle where they can use good quality items over a long period as part of their everyday lives.
If you are looking for a towel on the basis of using it continuously over a long period of time, then please be sure to try out this towel.
The ZUTTO brand of FUJITAKA TOWEL is one that brings together a soft, fluffy feeling with long-lasting durability.
In a single towel we have managed to achieve a combination of durability and softness; a towel packed with the latest thread-manufacturing technology that previously would have been impractical and too difficult to make.
This will definitely enrich your lifestyle and you will enjoy many years of use as your favorite family towel.
Product information
Tips for using our towels
Tips for using our towels
Our towels are made of delicate fabric.
Here are some tips for using them comfortably,
over a long period.
First Use

New towels are nicer to use if you wash them once.
At first the towels may shed some fine fluff, but this will stop after several washes.
※ This does not include towels with zero-twist yarn (non-intertwined threads)
New towels may fade in color if they are stored in that state for a long number of years, so please wash them as soon as you get them.
Washing Instructions

Wash towels so that they are immersed in plenty of water.
Washing machines with a drum only spray a small amount of water onto the laundry to remove the dirt, which risks the pile hardening. If you are using a drum-type machine then it's better to use the dryer feature to finish off the towels and plumpen the pile. Select a wash setting that pumps through as much water as possible.
Please note that there is a risk of the pile being caught if you wash towels with things that have zips or velcro.
Choosing a washing detergent

Please avoid using detergents with whitening fluorescents or chlorine bleach, as there is a risk of discoloration.
Please refrain from using fabric softener as this may damage the absorbency of the towel. We only recommend using it for towels that have hardened with age.
Drying

Leaving the water to evaporate from towels over a long period of time causes the pile to collapse and harden.
Please dry towels quickly, as the pile will collapse and harden if the towels are left as is after the water has evaporated.
Dry in a well-ventilated shaded area as strong sunlight causes fading and makes the towels hard.
Please note that leaving towels wet can cause odors, fungi and bacteria to form.
To sustain the volume

When drying your towel after it has been washed, please take both ends, shake it with a snap, pull it into shape and leave to dry to ensure that you always have a soft, plump towel to use. Shaking it in the air makes the fibers stand up and ensures a fluffy finish.
Storage

Try not to crush towels as far as possible and store them in a plumped-up state.
Store in a well-ventilated place, as towels will absorb moisture.
If the pile ends up snagged

Our towels are made of delicate fabric, so the pile may end up getting snagged on a nail etc.
If any of the pile is sticking out, trim it at the base with a pair of scissors. In this event, please be careful not to damage the base of the fabric.
If the hem or the selvedge ends up frayed, you can stop any further fraying by going over it with a sewing machine.