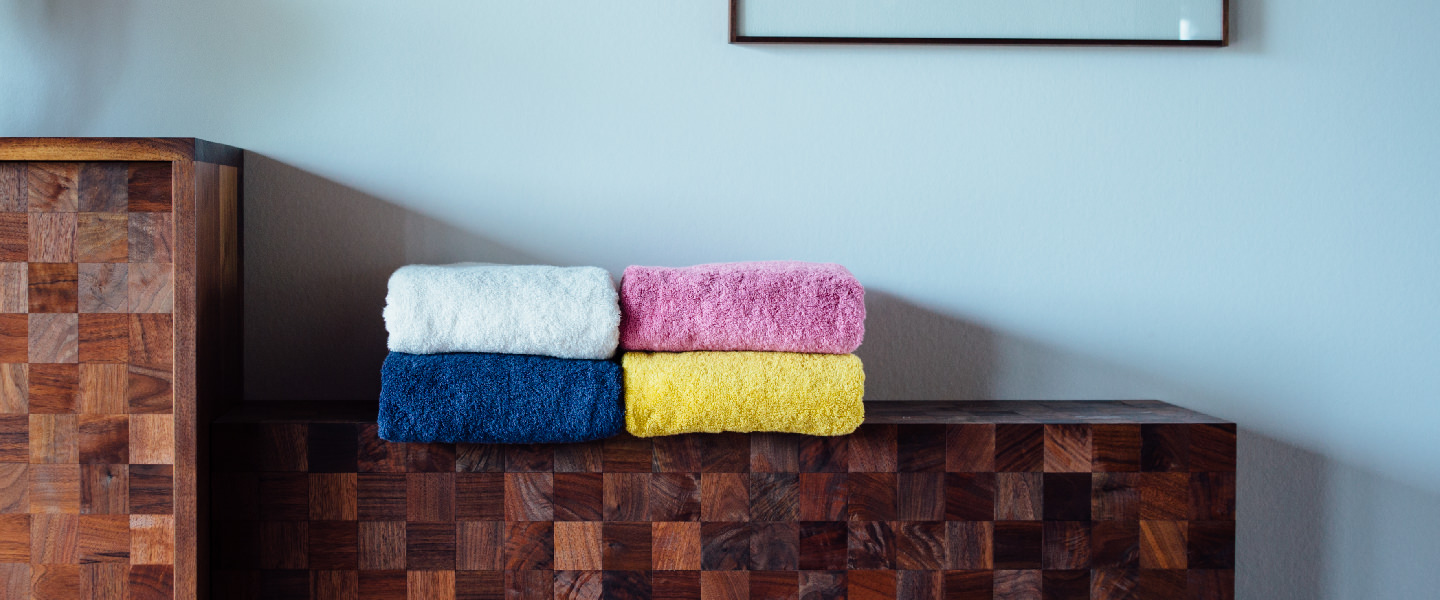 The ultimate basic towel
- achieved through 100 years of technology.
This is FUJITAKA's signature towel,
called the House Towel.
The name House Towel was first conceived from the House Wine in restaurants.
Like the House Wine that is recommended to customers first, these are our signature, discount towels that we want customers to go for first in our shop.
These towels are comfortable to use, being the product of a towel manufacturer with 100 years of experience.
The towels score well in all respects such as absorbency, feel and durability etc., with more attention paid to comfort of use than the price.
These are exceptional, basic towels that incorporate FUJITAKA's technology and ideas, based on the premise that we want everyone to use good towels as a matter of course.
The "God of Cotton Blooms"
that we met in India.
FUJITAKA went all the way to India to locally customize the raw materials used in our House Towels. The raw cotton we selected was Shankar6. This cotton has good fiber length and, of all the cottons in the world, it is particularly suitable for towels.
The raw cotton we selected was Shankar6. This cotton has good fiber length and, of all the cottons in the world, it is particularly suitable for towels.
We paid particular attention to the way the cotton is picked and how it is selected after the harvest.
The cotton used in our House Towels is all harvested by hand at the time of the second pick.
Characteristically this is soft to protect the plant's seeds and the quality is more reliable than the first pick.
Also, unlike ordinary machine harvesting, the fact that it is hand-picked means no unripe cotton will be mixed in.
Moreover, a cotton-picking expert selects only particularly good cotton, the so-called "God of Cotton Blooms", for our House Towels.
We have the cotton carefully selected for us by experts who can tell the good from the bad just by touch.
Good towels are made by
making good yarn.
When we think of towel manufacturing, the first thing that comes to mind may be the loom that weaves the cloth.
However, making good quality towels begins with careful attention being paid to the thread before it is woven.
For example the yarn used in our House Towels is stripped of its surplus fluff at the thread-making stage, with two strands of raw thread twisted and spun to produce an original thread that is strong and flexible.
This is a thread made exclusively for our House Towels, which is strong while at the same time being suitably soft.
And it is precisely because of this thread that we can weave towels that score well in all respects; i.e. the pile doesn't wear out when washed, they don't tend to harden, and they are absorbent.
House Towels come in 15 colors,
making it easy to coordinate
with your lifestyle.
Another feature of our House Towels is their colorful line-up.
With 10 standard colors, each spring and autumn we launch an additional 5 colors for a limited period.
The colors are easy to combine and fit in with any room.
That is the concept we used to choose all 15 colors.
The beautiful shades of color are unique to FUJITAKA thanks to the company's own dyeing plant.
Which color would you like?
Please use it at home, as a towel for everyday use.
If you leave one of these good quality towels out of the drawer then the mere fact that you touch it every day, and are sure to see it, will add to your sense of comfort and luxury and allow you to live in beautiful surroundings.
Product information
Tips for using our towels
Tips for using our towels
Our towels are made of delicate fabric.
Here are some tips for using them comfortably,
over a long period.
First Use

New towels are nicer to use if you wash them once.
At first the towels may shed some fine fluff, but this will stop after several washes.
※ This does not include towels with zero-twist yarn (non-intertwined threads)
New towels may fade in color if they are stored in that state for a long number of years, so please wash them as soon as you get them.
Washing Instructions

Wash towels so that they are immersed in plenty of water.
Washing machines with a drum only spray a small amount of water onto the laundry to remove the dirt, which risks the pile hardening. If you are using a drum-type machine then it's better to use the dryer feature to finish off the towels and plumpen the pile. Select a wash setting that pumps through as much water as possible.
Please note that there is a risk of the pile being caught if you wash towels with things that have zips or velcro.
Choosing a washing detergent

Please avoid using detergents with whitening fluorescents or chlorine bleach, as there is a risk of discoloration.
Please refrain from using fabric softener as this may damage the absorbency of the towel. We only recommend using it for towels that have hardened with age.
Drying

Leaving the water to evaporate from towels over a long period of time causes the pile to collapse and harden.
Please dry towels quickly, as the pile will collapse and harden if the towels are left as is after the water has evaporated.
Dry in a well-ventilated shaded area as strong sunlight causes fading and makes the towels hard.
Please note that leaving towels wet can cause odors, fungi and bacteria to form.
To sustain the volume

When drying your towel after it has been washed, please take both ends, shake it with a snap, pull it into shape and leave to dry to ensure that you always have a soft, plump towel to use. Shaking it in the air makes the fibers stand up and ensures a fluffy finish.
Storage

Try not to crush towels as far as possible and store them in a plumped-up state.
Store in a well-ventilated place, as towels will absorb moisture.
If the pile ends up snagged

Our towels are made of delicate fabric, so the pile may end up getting snagged on a nail etc.
If any of the pile is sticking out, trim it at the base with a pair of scissors. In this event, please be careful not to damage the base of the fabric.
If the hem or the selvedge ends up frayed, you can stop any further fraying by going over it with a sewing machine.